Rhymes, Crimes and Prime: The Story Behind Tupac Shakur`s 'Me Against the World'
reflecting on Tupacs powerfull message more than 2 decades later
Tupac Shakur hardly ever let anyone doubt that he was the real deal. Unlike many of his contemporaries that were labeled as "studio gangsters (gangstas)", he was someone who actually led the hardcore lifestyle he was rapping about in his songs. However, with the start of 1995 cracks began appearing on the seemingly impenetrable armor of the audacious rapper.
Tupac Shakur was famous for speaking up and standing his ground, regardless of the consequences. The music he wrote was an outlet for his outrage regarding the social construct at the time. The artist knew that he could use his art and his place in society to influence the world around him – in doing so Tupac became one of the symbolic activists against inequality.
Tupac`s world was set ablaze in a fiery inferno that burned with such a fury that for most it would have surely been a harbringer of a certain end. However Tupac was one of a kind – he arose from the ashes like a great Phoenix and spread his wings with renewed strength and breath of life. And from the charred remains of his past – the shooting, the trial, and the media storm that pinned him inside the prison cell at New York's Clinton Correctional Facility he made the groundwork for his magnum opus, his final message – "Me Against the World".
However, it was not always easy. Tupac led a dangerous life ever since childhood and the '90s were no different. In 1994 he spent 15 days in prison for the assault on Allen Hughes, the co-director of "Menace II Society" and later that same year the famous rapper took 5 bullets in Quad Recording Studios in New York. The assailants are still unknown, although in an interview in '95 the rapper accused Sean Combs and Biggie among others of taking part or knowing beforehand of the shooting. In the same year, Tupac is imprisoned again due to a sexual assault accusation from 1993. He serves 11 months in New York's Clinton Correctional Facility.
This is the background that led to the writing of "Me against the world". The emotional turmoil from getting shot, feeling betrayed (by both the system and his close friends), going to court, and subsequently being imprisoned made Tupac write some of the biggest social justice hymns to this day. Like many before him (Marvin Gaye – What's going on? & Miles Davis – Kind of Blue) Tupac turned his pain and anger into poetry and music, giving an outlet to the emotions he felt and making it relatable for the audience.
The soulful instrumental ("Dear Mama," "Me Against the World"), true thoughts ("So Many Tears," "Lord Knows"), and scary paranoia ("If I Die 2Nite," "Death Around the Corner") found in these songs are extremely honest and that is why they are still being listened to. Tupac didn't hold anything back while writing this album – making it a staple in hip-hop music for generations to come. His music continues to ring true to this day, giving voice to movements like Black Lives Matter.
Today we have gathered what some of his closest friends, relatives, and colleagues have to say about "Me against the world" and Tupac himself.
THE BEGINNING
"This album was made before I went to jail before I got shot, and all I'm talking about is going to jail and getting shot. So it was a prophecy. So when the album comes out and then you hear about what's really going on in my real life, I mean, I don't have to say I'm keeping it real, you could listen to the music and go, Whoa he said that…" — Tupac
According to the producer Moe Z.M.D., the name of "Me Against the World" was supposed to be "Fuck the World" – attracting the attention of the audience about how the artist felt at the time. Since 1993 the rapper's notorious life was spiraling out of control – he had been arrested six times, shot at, been to ICUs and his private life (especially regarding his family) wasn't easy. When it all came to a crashing halt with the incident in Parker Meridian Hotel involving a 20-year old woman Tupac started putting all his feelings into "Thug life" – a compilation album with his Thug life rap group. That album eventually became his solo EP we now know as "Me Against the World".
Moe Z.M.D.: Really his thought process when he talked to me about [the album] — it wasn't called Me Against the World at first, I think it was called Fuck the World. He was just like feeling angry about all the stuff that was happening to him and he really just talked about dying and knowing that he was going to die and he needed to get all this truth out before it happened. He felt like people were coming for him and he was just uneasy about either the government, people from the street, you know, he was getting it in all kinds of ways. So he wanted to really portray his anger at what was going on, so I think he kind of toned it down to Me Against the World because it was like the same theme without being so harsh.
E.D.I.: What he was going through right at that point in his life. It was a turbulent time for him and he transferred it over to the music. It was very honest and very raw.
Money B: Once he went to jail, he had a lot of time to reflect and really speak from a point of vulnerability. So he was allowing himself to show a side of himself that you probably hadn't seen from himself. 2Pacalypse Now and Strictly 4 My N.I.G.G.A.Z... he never really talked about his relationship with his mother and things like that.
Leila Steinberg: He was willing to be completely vulnerable and to invite you into his pain. When he wrote "Dear Mama," [Ray Luv] was one of the first people he shared it with. He was really excited. I'll never forget being in the apartment and just crying because we all have really powerful mothers who were in tremendous pain around their commitment to service and we suffered that. We suffered the generation of '60s activists who were really hurt.
Ray Luv: The fact that it's first single is "Dear Mama," and the fact that the album is, maybe duplicitous is a dirty word, but it shows both sides of him as an individual [and] as an artist. I think most of when you hear somebody mimic Tupac, I think that they're probably pulling from that record. I think that was the one that blasted him to superstardom for that reason. It's raw, it was honest, and it came out during a cold time too, a lot of violence in the streets that was being reflected in the music, a lot of struggle.
E.D.I.: One of the best songs on that album was obviously "Dear Mama." It's one of those songs that's going to play forever. That's when he went from being a really good hip-hop artist to being a voice.
Steinberg: 'Pac was born to be political, he was born to touch the hearts of the world, and he did that. And that particular album, really took him into a political arena. It mobilized the hearts of the entire planet. There's nobody that didn't connect to at least one song on there, but it was an album that you could play from beginning to end. It was the narrative that introduced the world to him, because the first [albums] were really just him venting, this was his mobilizing.
Moe Z.M.D: The subjects that he touched on and the concepts and the stories, he wanted everyone to feel what the youth, as far as life, as far as the government, he touched on everything. He also had people guest spotting on there to give their story. Musically, all of the music was tailor made for the raps even though it was the other way around because he wrote to the tracks.
Easy Mo Bee: I always felt like that was one of the most different albums he did. At that time, up to that point, and even after when you look back, that album was just different. Always a brother to speak up and say his piece. He ain't gonna hold whatever it is that he has to say, whether it be about some chick that he just dealt with last night or his feelings about the government or police brutality, what's going on in the neighborhood, how us as Black people here in America get treated, he wasn't afraid to speak about it all.
Ray Luv: I mean I think that's why it had such a big impact [because] if you look at the two albums before it, they had some success. The second one was double platinum, double platinum single. But as far Tupac being the image that we have of him now, that took place during the creation of this record. He being shot, going to jail, and you don't get a response from him, you don't really hear what he has to say about how he feels, but the first thing you hear is "Dear Mama." It was like a blues record, it wasn't even like a rap record.
Steinberg: It was his Gil Scott-Heron record.
HOW IT HAPPENED
"No matter what these people say about me, my music does not glorify any image. My music is spiritual if you listen to it. It's all about emotion. It's all about life… I tell my inner most darkest secrets, I reveal myself in every one of my records. From "Dear Mama" to "So Many Tears," I tell my own personal problems and people can relate to that I believe…" – Tupac
Tupac was sentenced to 1 and a half to 4 and a half years in prison on the 14th of February 1995, following the incident in Parker Meridien Hotel. He was recovering from bullet wounds and got mugged in Quad Recording Studios the week of his trial. Following the second event, he was immediately transported to the prison (Clinton Correctional Facility) where he served an 11 months sentence. The completing of the album was given to Outlawz, a member, and friend of E.D.I. The album was comprised of different Thug life recordings and singles like "Dear Mama" and "Temptations". Upon release, the album beat Bruce Springsteen's "Greatest Hits" in sales and stayed in first place in the Billboard top 200 for four straight weeks.
E.D.I.: I kind of saw [the album] being made in the process piece by piece. Then towards the end of the project, he was unfortunately incarcerated and really didn't have anybody he really trusted to handle and put the product together. So he asked me to fly out to L.A. and it was my first time [out here] alone and I got a chance to really just sit with the music, the engineers, producers, and really watch how it all came together. It was pretty much his vision and using me as an instrument to get it done.
Moe Z.M.D: When I first did the project, I was coming in on the tail end of the Thug Life, Vol. 1 album and they were just about to put out the first single, "Cradle to the Grave." So they wanted me to remake it, because he had an issue with the producer I guess. So I remade it, I remade "Runnin' From the Police," and I remade "Lord Knows." So then, he wanted to use "Cradle to the Grave" right away and then within days, flew me to New York to work on some more stuff because I had sent him a demo of some tracks. He was like, "I like most of tracks on there, but there's this one on there that's at the end," and I'm like 'Oh, that's a R&B track that I had left by accident.' So then he said, this is his words verbatim, "Well it's a rap now nigga." [Laughs] I said, Alright. That ended up being "Outlaw."
Money B: That was one of favorites. One of my favorite songs on that album was "Outlaw." I used to just bump that s* everyday when I first got the record. But my absolute favorite song on the album, and my absolute favorite Tupac song of all-time, is "So Many Tears." That was the song for me. Produced by Shock G, you know Digital Underground. But that's not the reason. For one, I always liked "That Girl," which that harmonica is sampled in the song, that was always one of my favorite songs from Stevie Wonder when I was growing up. The way Shock uses the sample and just the lyrics, I totally felt that song. When I heard it, I was like, Okay that's the Tupac I know.
Easy Mo Bee: I went to Rucker Park because at the time he was filming "Above the Rim." So I go in the trailer, I had AB Money and J.R with me, I played him one joint that I had already made and that track ended up being "Temptations." I had took "Computer Love" and flipped it. All the beatmakers out there, a lot of people know but a lot of people don't, it was [Zapp & Roger's] "Computer Love" filtered and I'm drumming it up on top then I'm letting some keys and stuff. Then after the beat is done, I had this idea, I was listening to Redman's album (What Thee Album) heavy and on that joint there's a track with Erick Sermon ("Watch Yo Nuggets") where it goes "Heeeey Erick Sermon… Haaaaay." So I'm like, just take the Hey and Hay and try it out. And that's how we got that beat right there.
Moe Z.M.D: For "Young Niggaz" we were in the studio working on a song called "Throw Ya Hands Up" and [Pac] gave me a cassette of Cameo and said, "Do "She Strange," just flip it." So I said okay and went back to the crib and at that time my equipment was broken down so I called up my homeboy, who I call my cousin, named Lethal, and [asked] if I could program the record on his equipment and take it to the studio and cut it. He was like, 'Yeah no problem.' So I cut it up and everything, did it, went back to the crib, came back in the morning so we could go to the studio and he was like, "I added a little part to it. So it was this little breakdown, you know where Pac talks in the middle of the song, and I was like, 'You know what talk to the label, get your co-production [credit] and everything. So went to the studio, cut the track, Pac came in [and] started writing to it and I tried to get my homeboy that sings on "Cradle to the Grave" on it, but he was doing something at the time so I got my dude G-Money, who actually sang with my other dude Radio, which is how 'Pac found me because they were on Interscope too, and so it went from there and he loved it. That's one of the [songs] I got a couple of my artists singing too in the background, including me.
Easy Mo Bee: During our session, I'm thinking that all this stuff we recording is going on the Me Against the World album. No, this dude [just] recorded a big batch of songs. He did one of the smartest things in the world, he took "Temptations" and "If I Die 2nite" and put it on Me Against the World. He takes "Str8 Ballin'" and puts that on Thug Life, Vol. 1. Then he takes "My Block" and puts it on "The Show" soundtrack.
E.D.I.: Definitely him and Easy Mo Bee had incredible chemistry. A lot of those songs that they did together, even a couple that didn't make the album, are all classics. It was [also] one of the first times you heard the chemistry between him with Johnny J, who did "Death Around the Corner." It was a lot of good producers on there, of course Mike Mosley, but for the most part every producer on that album catered to his sound and really came up with a cohesive sound for his project.
Moe Z.M.D: I was in on a few of those recording sessions that he had with a couple other people and it was the same thing, looking at it like, This is amazing. There was never a dull moment. Half the time, us as producers, we didn't really know what was going on, we knew we wanted to make good music, but we didn't know that it was going to be what it is we wanted it to be. The ones he had on there, they really cared about the sound and they cared about how to make his words come across and it even went down to the mixing, the people that he chose to mix certain things. It was like they really wanted you to hear and feel what he was saying versus just throwing him a track to rap on it.
E.D.I.: It's a really good album from start to finish the production is high quality. I think that's when Pac took the music he was rapping over a little bit more seriously. Up until that point, he was more focused on the message and he didn't really care that much about the beat. I think Me Against the World he started to really pay attention to the beats he chose, so it's really good production, the features on there are all solid and it's just a cohesive project.
LEGACY
"I think I did real deep with this album. As far as the success… I owe it all to my fans, I owe it all to the people who supported me. I think the reason being is that every album, if you go backwards and listen to the other albums I've put out, it was a prophecy…" – Tupac
"Me Against the World" continues to have a resounding effect on society. The honesty of this album shows the humanity of the artist, thus making it more real and relatable. The messages on social injustice and the vulnerability with which they were shown make this album a resounding part of American culture.
Ray Luv: That [album], it was just that point for him where he had nothing else left to hide. And that is liberating place to be at as an artist. But as a listener, it's like, you can't stop listening. I just kept listening to that record, over and over again, and we were all recording at that time. We were all releasing projects and it was just one of those ones where you didn't just listen to it because you knew him and he was your friend, it became a part of my life.
Steinberg: You either loved 'Pac, or you hated him. He was the voice of one's violence is equivalent to one's pain. He was angry and he was hurting. It wasn't me against humanity or the people, it was me against a system that has oppressed women and all people of color, but in this country primarily Black people and he was always so burdened by the pain of making a difference [that] he couldn't even enjoy his life.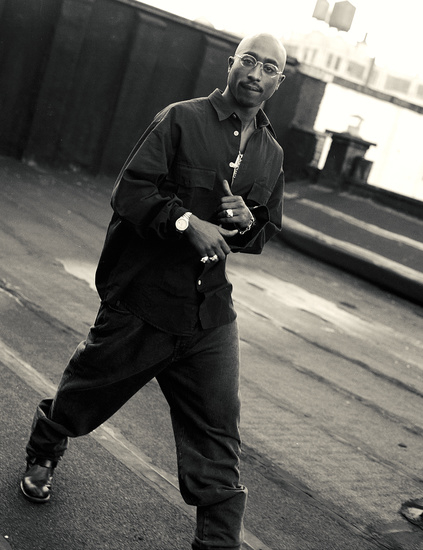 This record was the transition because he was hungry up until the release of Me Against the World. He was still financially struggling and so he actually was able to have more fun and laugh a little on the way to that point. But, all of a sudden the world started interrupting and cases started happening and that's what we've systematically done to oppress people of color, especially with the power that 'Pac had, 'Pac had the power to unite the planet.
Ray Luv: We really did believe like we were going to change the world. Steve Jobs had a great quote that went, "The people that are crazier to think that they can change the world usually are the ones that do." And all of us, the movies, the books, the international impact, he believed in all of them since day one.
Steinberg: He was committed to social and political justice and it's a costly commitment and Me Against the World was his statement and he was standing up. It didn't matter who what or when, we knew we wouldn't have 'Pac forever. Hindsight doesn't mean anything or I would definitely have created something different and been a better guide. I would've really insisted that he stopped speaking that he couldn't be here and that he couldn't live and still have the impact.
Ray Luv: I think [he] understood too that there's a time for martyrs. Sometimes it gets people's attention. I think Tupac's death was such a huge shock, not so much to us in the Black community, which it was a shock, but I think like to white kids in Iowa and people in college, it was like "What, he's dead?" I think him laying the groundwork for what was his great work to bring focus to the fact that it's happening to all of us. It could be me, it could be B.I.G., it could be anybody and it's not just the little skirmishes between us, it's the climate outside, it's the way things are.
Sternberg: It's almost surreal that we sit here talking about him, but he always told us we would. He was really clear early on when we all worked together that he wouldn't be here, he would never be here to really appreciate and kind of participate in his impact. He didn't get to grow up. So, here we are responsible for continuing.